There are dozens of reasons to get into backpacking and hiking: cheap vacation, healthy living, immersion into nature, etc. There are just as many reasons to get your kids out hiking too, and the earlier the better. My personal favorite reason is that I get uninterrupted time with my kids in a calm and positive environment. A close second is that I'm making it more likely that they'll love and respect nature for the rest of their lives. It's been rewarding for me personally as well, being able to see nature differently through their eyes.
Many parents of young children are astonished when I tell them that I started backpacking with my son when he was three years old. They're even more astonished when I tell them that he carries his own pack with a few pounds of food and gear for two miles or more every trip, and loves it! He's not a mini Jeremiah Johnson (yet), and he's of average physical ability for a kid his age.
There seems to be a mental obstacle for parents, while kids don't really have these hang-ups. We tend to project our lack of motivation and resistance to adaptation onto our children. We worry that they won't have the patience for a long car ride, or the stamina to hike a mile, or that they'll sleep miserably in a tent and won't eat camp food. Basically, that something new and possibly difficult will lead to failure. If you go into it stressed out and you thrust your child into it without any mental preparation, you're probably right.
So in order to help you transition yourself and your little one out onto the trail, I'm sharing tips from my experience below.
Getting Started
Play outside. Let your kid(s) get dirty. Let them catch bugs, eat dandelions and clovers (as long as the grass isn't sprayed with chemicals), throw rocks, and poke things with sticks. Point out the squirrels and birds to them, and teach them whatever you know about the plants and animals in your own back yard or favorite park.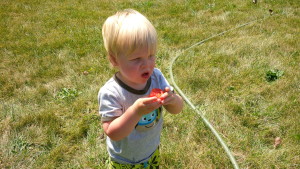 They have an innate curiosity for these things and an instinct for exploration. This time spent playing will help instill a love of the outdoors and they'll associate it with their relationship with you.
There are also health aspects: getting dirty is good for their immune health, and time spent outdoors has been shown to reduce stress. It will also inspire you both to move around more. Aside from the fact that you'll be giving baths more frequently, there's really no downside.
Walk. As soon as you feel comfortable putting your child into a stroller (or a wearable baby carrier) and walking outside, do it. Do it often. And when they start walking themselves, do hybrid walks that are part stroller, part independent walking. You don't  want walking to become a dreaded task, so let them climb back into the stroller if they wish. Let them take their time, pick things up, sit on rocks, point out birds, etc. Once they've shown that they can make it around a block or two, ditch the stroller or baby carrier and they probably won't even miss it. Incorporate tricycles, scooters, or bicycles occasionally if it helps to keep things interesting for the kids.  There are some great tricycles that have a rear handlebar
that allows parents to push and steer if the child gets tired.
After they've shown some endurance on walks, take them to a forest preserve or state park and let them try to hike up to a mile. Ideally there should be some hills on the trail. My son's first big hike was 1.1 miles at White Pines State Park in Illinois when he was 28-29 months old (mom was wearing his 1-2 month old baby sister for the hike). Again, let them take time to explore, throw rocks in creeks, rest occasionally for snacks, etc. Gently encourage them to hike on their own, but pick them up if they're getting frustrated. You don't want to turn hiking into something negative.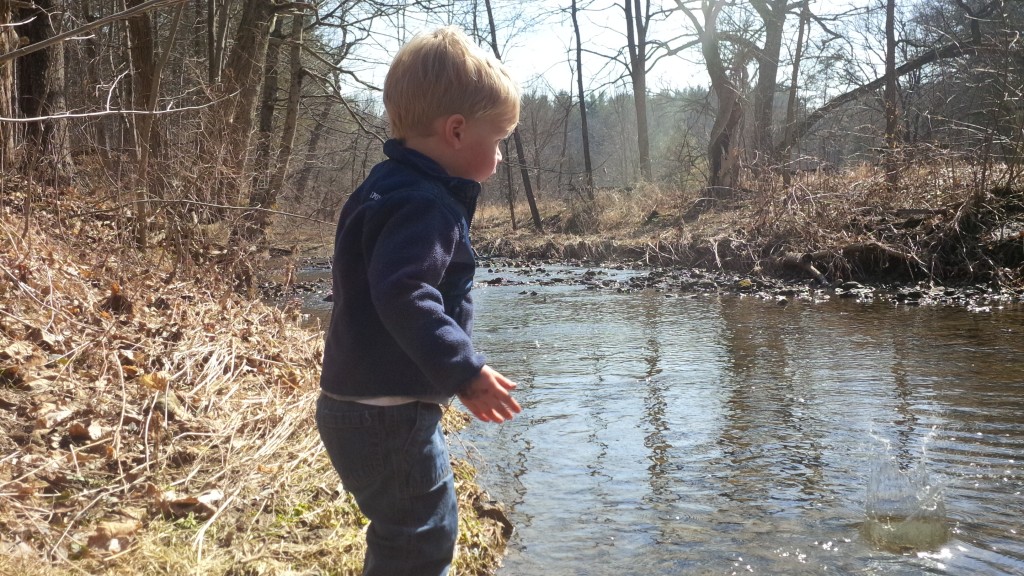 Camp. Set up a tent in the living room or on their bedroom floor when they're toddlers, and let them play in and around it. Then one night, sleep in it with them. They'll love the novelty, and you'll probably end up roughhousing. Then pick a night with comfortable weather and sleep outside in your back yard (or a friend's back yard, or even your balcony if nothing else is available). Depending on how comfortable they seem with the back yard camping, take them camping at the nearest family campground. After a couple of these trips your child should be more than ready for more remote camping.
Try backpacking food at home, or bring home food to the trail. I recommend the former, because the latter can be cumbersome. Home food, and the gear necessary to cook it, is big and heavy, and clean-up at the campsite can be a bear. Try some backpacking recipes and snacks at home to see what Junior likes, and only bring the favorites on the trail. I've been experimenting with some crossover foods for my short hikes with my son.
Buy your kid a backpack. This may be the only bit of gear that you need to buy them for several years, so prepare to spend a little bit of money to get something of quality that they like. Let them help pick it out, and try to make sure that it fits them comfortably. My son picked out a red 12L Osprey pack
. Like most children's backpacks it has a whistle built into the sternum strap, and he knows to stand still and blow into it if he gets lost or separated from me. He loves testing it out, and does it frequently. He also loves choosing what goes into his pack, and I let him pack it himself. I have a few requirements, but he handles the rest, and he feels big and proud when he wears it. I encourage him to keep it light, but I don't bother him if he wants to bring a few of his matchbox cars. On his first trip he carried more than 5 lbs. over a mile to the campsite, and then the same distance back to the car the next day.
Spend positive time in the car. Occasionally go fun places that are kind of far away. Pay attention to your child's activity patterns, and reserve the bulk of the driving for times of the day that he or she is naturally calm. Engage your child while on the road. Sing, talk, or point out animals, construction equipment, trucks, airplanes, etc. (I refuse to get an entertainment system, but they might work fine for you.) Your child won't associate road trips with drudgery, but rather with positive attention, exploration, and rewarding destinations.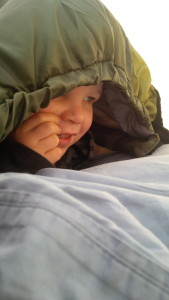 The big day. So your kid loves nature, can walk with a backpack, gets dirty, sleeps in a tent, and eats trail food. Now get out and do all of those things at once!
Try to find a destination that has remote camping within a mile or two of the trailhead, and try to go on a night with a decent weather forecast. I try to pick destinations that are close to home (2 hours or less) and have decent cellular coverage, just in case. Autumn is an excellent time to go hiking in the upper-Midwest because you avoid the worst of the mosquitoes.
Small, light blankets seem to work just fine for kids if you haven't picked up a sleeping bag. I bought Charlie a cheap adolescent sleeping bag for the trips in cooler weather (only $40 and should be useful into his teen years), and I bring my old insulated foam roll sleeping pad
for him to sleep on. Be sure to pack a first aid kit
, and be prepared to carry his/her backpack (and him or her) for a portion of the hike if he/she gets exhausted.
But most of all, try to relax, be adaptable, and enjoy your time. And beware – your child may enjoy themselves so much that they ask you randomly to camp out in the back yard from time to time, like my son did last Christmas. But if you're anything like me you'll gladly oblige!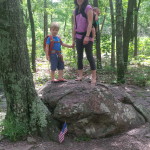 What are your thoughts? Please post questions, tips, comments, successes and failures regarding kids and backpacking in the comments below.
…………………………………………………………………………………………………………………………………….
It's possible that I'll receive a commission for items that you buy through the Amazon links above, but at no additional cost to you. I only recommend items that I personally use and enjoy, and the commissions will help me offset the cost of hosting this blog. Thanks, and happy trails!