Over the past several years I've had the great fortune of introducing some of my favorite people to nature through backpacking. The most meaningful of those introductions occurred this May, when I took my three-year-old son, Charlie, on his first backpacking trip. He absolutely loved it, and so we shared our second trek together just last week (mid-September).  He has his very own Osprey 12L backpack that he picked out himself, and in it he carries his snacks, rain jacket, mini water bottle, headlamp, a change of clothes, and most importantly, his favorite teddy bear named Patchouli Bear.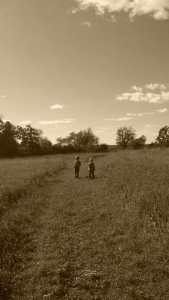 My good friend and long-time backpacking buddy Kevin has a similarly aged son, so it was natural that we co-planned these trips. (It's also a convenient excuse to get the wives to let us out of the house for the weekend.)
As I'm sure you can imagine, these trips aren't anything like the treks that I take when traveling solo or with other adults. They're within two hours of the Chicago metro area, we typically get cell service the whole time (definitely not "Zero Bars" destinations), and the hike to the camp site has to be less than two miles (because three-year-olds have short legs).
But we're beginning to learn that this style of backpacking has its advantages; it lends itself to new luxuries, especially with regard to the food that we can bring. You're not forced into a dehydrated and freeze-dried menu when you only have to carry your food for two miles, and you don't really need to worry about refrigeration when you're going to be cooking your food within a couple of hours of leaving the car*. Our most recent trip was our first foray into backpacking gourmet, and it turned out exceedingly well.
Kevin brought small wooden skewers for cooking sirloin steaks, lamb chops, and bell peppers. Each of these ingredients had its own unique spice rub that Kevin carefully selected.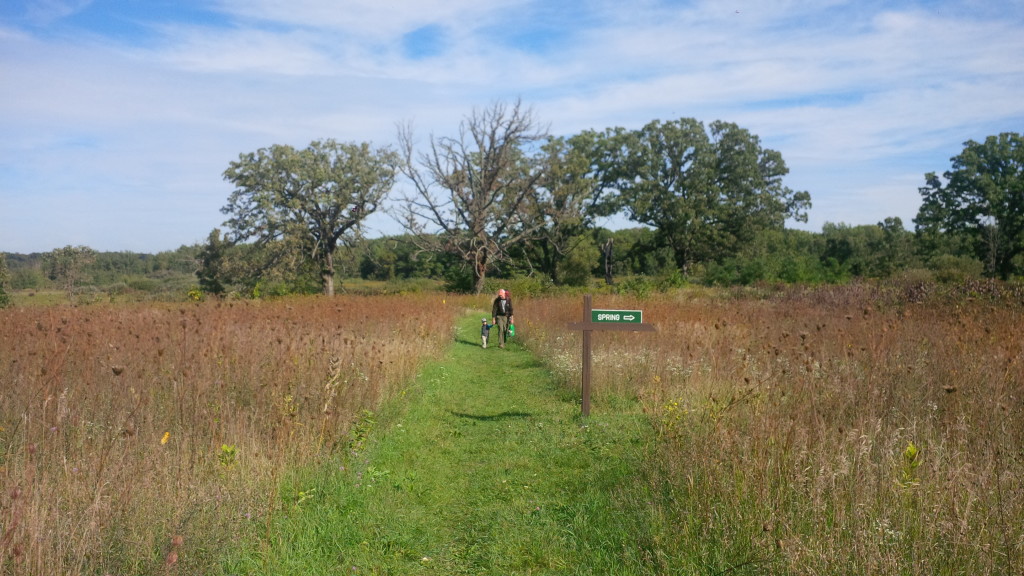 I brought the side dish. I sliced six small red potatoes and one small purple potato, divided them into two even helpings, and then placed them into the centers of two 12″x 12″ pieces of aluminum foil. I sprinkled a bunch of salt and garlic powder onto the potatoes, then pressed two handfuls of baby greens on top of each heap. The baby greens consisted of fresh spinach, Swiss chard, and kale. I sprinkled more salt on top of the greens and then added some onion powder. I poured olive oil onto the foil around the base of the potatoes so that it would drain into and under them when I wrapped up the foil. I put a LARGE pat of butter on top of the greens, then wrapped up the foil, compressing the greens so everything would be entirely covered by foil. I then cut another piece of foil for each bundle and wrapped them a second time the same way (making sure that the opening would be at the top).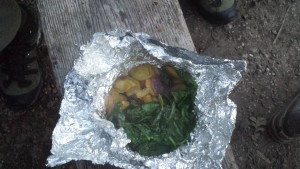 We camped at the Kettle Moraine South Unit along the Ice Age Trail which has designated camping only. Each site has a steel fire ring, a picnic table, and a large wooden shelter. We found sticks suitable for laying across the fire ring, and set them a few inches apart so that we could prop the skewers up between them. Once the fire had some nice glowing embers we set the skewers over the fire and the foil bundles on the outskirts of the embers. I turned the foil packages routinely until they were hot to the touch all over, and then left them alone until they were sizzling and steaming for a couple of minutes.
The skewers weren't so easy. They were flimsy and flexible to begin with, and as soon as they began to turn brown from the heat they bent and fell into the fire. We even tried to reinforce the skewers by adding additional skewers, but to no avail. Tired of having to rescue good meat from the flames, Kevin considered using tent stakes as skewers. Once I added that "grabber" stakes could be used to hoist the hot stakes off of the fire Kevin jumped into action. We introduced to the world the first ever (I challenge you to prove otherwise) "Tent Stake Steaks."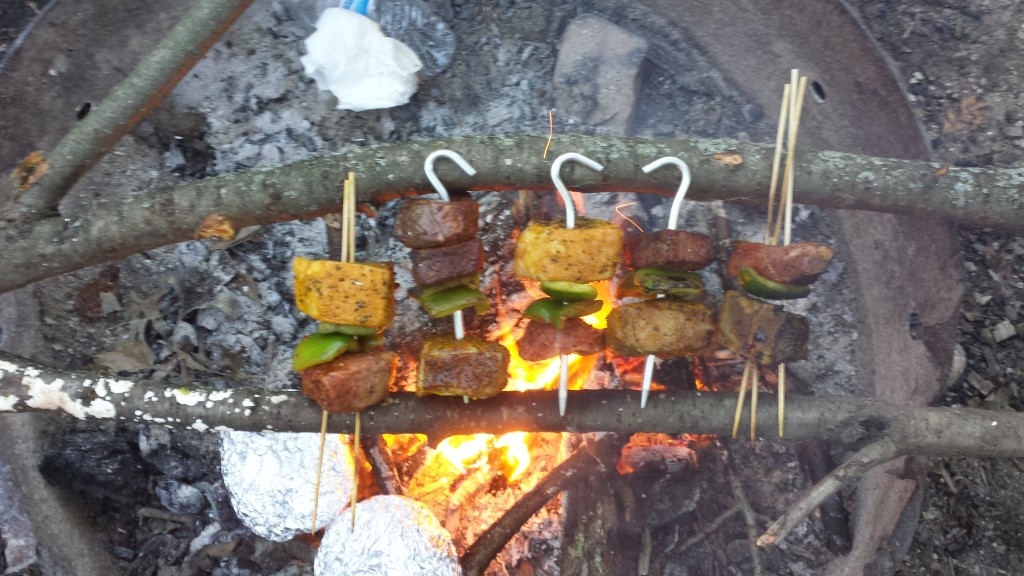 Everything was delicious!
For an after-dinner snack I made popcorn. It was very simple. At home I packed 1/8 cup popping corn into a Ziploc bag for each boy. I put a roughly 1 tsp. chunk of coconut oil** into each bag, and sprinkled salt in pretty liberally. You could probably make a kettle corn version if you sprinkled in some powdered sugar as well.
At the campsite I used my GSI Pinnacle Soloist
pot and MSR PocketRocket
 stove to cook the popcorn. I dumped the entire contents of one Ziploc bag into the pot and set it on low heat until the coconut oil was melted, then turned it up to a medium setting. The popcorn did what popcorn does, and I removed the pot from the flame once the pops slowed down to one or less every three to four seconds. It was enough to fill each boy's GSI Soloist bowl. I popped the contents of the second Ziploc bag in the same fashion. There was enough that the boys even decided to share some with the old men.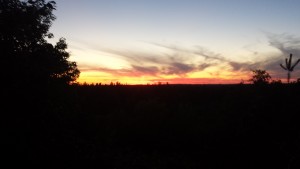 The kids gobbled up everything that we offered them, and we all topped off the evening by sharing a bar of cherry & almond dark chocolate. The dads enjoyed some scotch.
Now you hardcore backpackers out there might call me a "Glamper" or say that I was "Glamping." And you'd be correct. It was marvelous! And if I'm not careful this lifestyle might get to me…
Tips:
Set a little bit of room between the pieces of meat so that the outsides can cook evenly and the meat can get cooked more quickly, but don't overcook the meat because that's a sin.
Get crazy with the flavorings for the side dish – I'd like to try the same recipe again, but with a bunch of Parmesan cheese sprinkled in, and maybe a sliced pearl onion or shallots mixed with the potatoes (this is making me so hungry right now).
More ingredients may mean more trash – be sure to bring a gallon sized Ziploc to fit all of the garbage that you'll pack out (because you pack out your garbage, right?).
There are at least two excellent camp sites for backpacking with little ones in the Kettle Moraine State Forest South Unit, but all backpacking sites are on the Ice Age National Scenic Trail, are designated sites, and require reservations through the Wisconsin DNR.
All food mentioned above, aside from the whisky (and popcorn, arguably), are consistent with paleo diet and primal diet recommendations.
Your suggestions, recipes, and condescending anti-glamper rants are welcome in the comments section below.
*Although I wouldn't recommend having this attitude with raw chicken or fish on a 95° day
**Coconut oil is a solid at room temperature, and a liquid anywhere above 76°F. So the popcorn recipe is great for spring or fall  trips, but guaranteed to be a greasy mess on summer hikes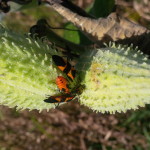 ………………………………………………………………………………………………………………………………..
It's possible that I'll receive a commission for items that you buy through the Amazon links above, but at no additional cost to you. I only recommend items that I personally use and enjoy, and the commissions will help me offset the cost of hosting this blog. Thanks, and happy trails!