Savage Gulf State Natural Area is one of nine properties that make up South Cumberland State Park in Southeastern Tennessee. Roughly an hour and a half from both Nashville and Chattanooga, TN, and 5-6 hours from Midwestern cities such as St. Louis, Indianapolis, and Cincinnati, the beautiful views and extensive trail system are enough to justify a multi-day trip for beginners or advanced hikers alike. A trail map is available here or at the trailhead, and here's a helpful distance-finding map for planning your hike. See the notes below for more camping tips, costs, & hiking information.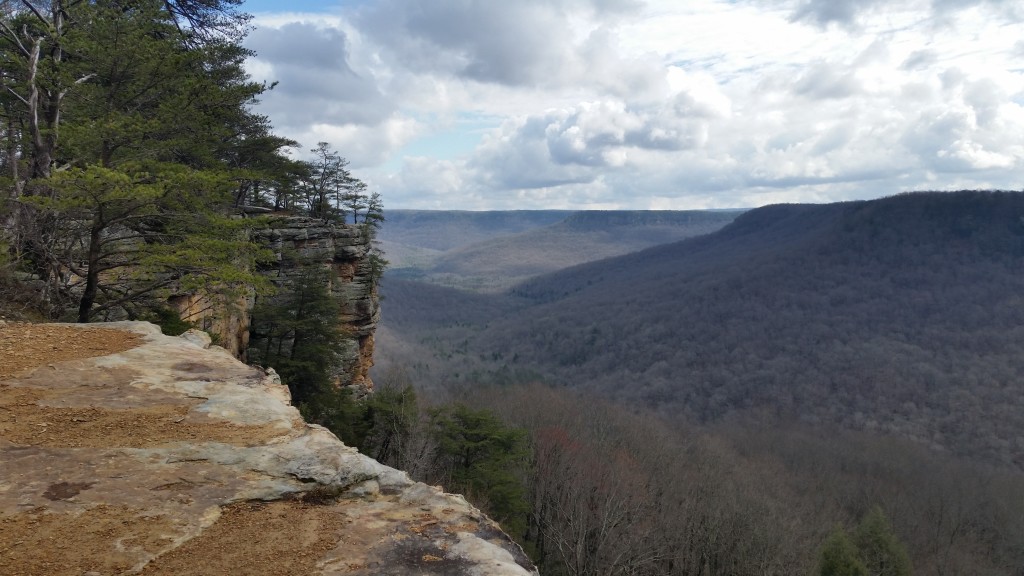 "You won't make it to Hobbs Cabin before dark," snapped the ranger at the Stone Door Ranger station as we checked in around 3:00 on a Friday afternoon. "That's eight miles from here." The out of shape ranger had a baby face, a soft voice, and a Bic-shaved head. He was either trying to hide the fact that he was going bald or trying to embrace it. Either way, I'd have assumed that he was a nice guy had he never opened his mouth.
We tried to convince him that we were fit enough to cover eight miles in the three-plus hours before dark. My companions were my good friends Corey and Matt, one of whom was in training for a Nashville half-marathon and the other who routinely day-hikes in the mountains near his home in Colorado. And not to toot my own horn, but I've proven on more than one recent occasion that I can cover decent miles over rolling terrain pretty easily, and in fairly short timespans. But the ranger insisted that he could not let us go into the woods without changing our reservation from the Hobbs Cabin Campground to the Sawmill Campground. He even expressed concerns about us being able to make the five-mile trip to Sawmill before dark, and tossed around the threat of making us stay at the Stone Door Campground for the night (right across the parking lot from the ranger station). Then he told us that we couldn't possibly complete the North & South Rim Trails on Saturday with time enough to return to the Sawmill Campground, so he would change our reservation for night two as well, despite our desire to keep it.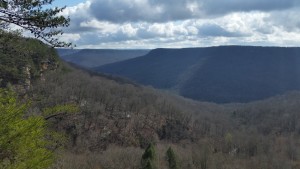 A pet cat was stretched across the ranger station's guest chair, and another was meowing at the screen door to be let into the station while the ranger fiddled with our reservations on his computer, and scribbled some numbers on a sticky note. Then came a lecture about our short window of hiking time, and how we should have arrived earlier. About half an hour after we poked our heads in as a courtesy to the ranger, he finally let us head out into his woods for a hike. We were officially "re-reserved" in the system to stay at Sawmill for the first night, and Hobbs for the second.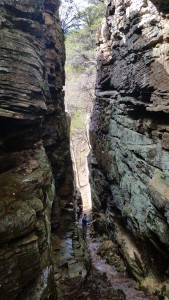 We started at the Stone Door trailhead so that we could begin our hike by descending the bluffs through the iconic "Great Stone Door." The hike from the ranger's station to the Great Stone Door is a very easy mile, and the first half-mile is on a path paved in asphalt. For the minimal effort required to get to the Stone Door, the reward is amazing. Panoramic views of the gulfs* go on for miles from the scenic overlooks, and from the bluffs you can really sense the 800 vertical feet that separate you from the canyon floor below.**
After admiring the view we descended the narrow, stone staircase through the Great Stone Door, and followed a series of switchbacks down to the Connector Trail. The Connector Trail is so-called because it ties together what would otherwise be two or three independent trail systems. It's a very rugged, rocky trail, but it's well-marked and easy to follow. The trail crossed a raging creek with crystal clear water by way of a long, wobbly suspension bridge, and then later crossed a dried creek bed by way of an even  longer, wobblier suspension bridge. We took our time getting to our campsite, snapping photos along the way, looking at colorful centipedes, and taking time to admire the Holly bushes that we don't get to see "up north."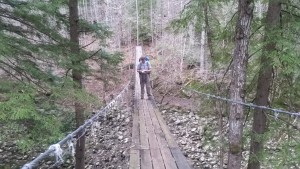 Sawmill Campground was completely deserted. It had eight empty campsites along the Connector Trail near its junction with the Collins Gulf Trail. There's a single pit toilet (outhouse) shared by the whole campground, and the campsites are all pretty visible from the trail and from any other campsite. (Privacy might be improved by full summer foliage.)  We arrived at our site an hour before dark, and we got busy settling into our home for the evening. Firewood is not provided at the campgrounds, and the nearby forest floor was picked clean by previous campers, so we had to search a fairly wide radius to find adequate fuel for a small fire.
The spring peepers' chorus was deafening that evening, but settled down before we called it an early night and went to bed. That's when the owls and coyotes began making their own racket. (One confused coyote thought he was a monkey, judging by the sounds he was making.)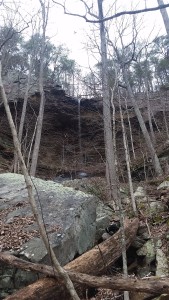 We got an early start on Saturday morning because we were going to head the long way to Hobbs Cabin Campground. The "long way" is to take the Stagecoach Road Trail to the South Rim Trail, pass Savage Falls, and use the southerly portion of Savage Day Loop to access the North Rim Trail, for a total of roughly 15 miles. (See resources linked above for a visual.) The Hobbs Cabin Campground rests near the point on the map where the Connector Trail, the North Rim Trail, and the North Plateau Trail meet. There are eight campsites and a shared pit toilet, but there's also a rustic cabin (Hobbs Cabin) that can be reserved for overnight stays.
Savage Falls is just shy of half way through the route that we were taking to get to Hobbs cabin, and was a natural place to stop for an early lunch. The hike so far had been fairly easy; only the first two miles or so were rugged and consistently uphill, and the 5.8 mile South Rim Trail was rolling, but easy enough that we could cover ground quickly while still being able to do the side hikes to each of the scenic overlooks along the way. (Most of the scenic overlooks are worth the short side hikes, by the way.)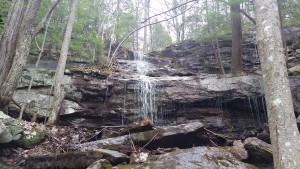 There's easy access to Savage Creek just above the falls, so we stopped there to filter water
, rest our feet, and eat lunch. After almost two hours of relaxing, eating, and catching crawdads we got ready to head back out on the trail. Corey noticed that some pretty nasty blisters had formed on his heels, so Matt rigged him out with moleskin*** and duct tape,**** and Corey added a second layer of socks.  Due to Corey's fresh new injuries, and because we wanted to be back at the van early the next day, we decided to change plans and cut the hike by four miles. Heading back to the Sawmill Campground by way of the South Rim Trail would shave a mile off of our hiking for Saturday, and hiking back up to the van from Sawmill on Sunday morning would save three miles over hiking there from Hobbs. So we headed back to Sawmill in hopes that the campsite that I had originally reserved for Saturday night would still be vacant.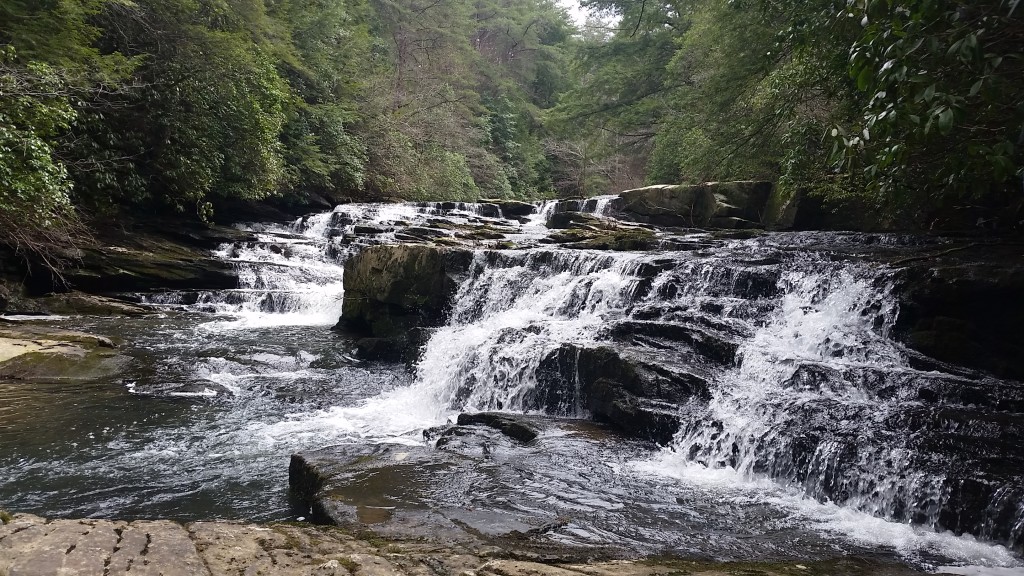 The site was vacant! So we busied ourselves with tent, firewood, and dinner, got our fire started and kicked off our boots. We had neighbors tonight, but there were a couple of open sites aside from ours and the campground didn't feel very crowded.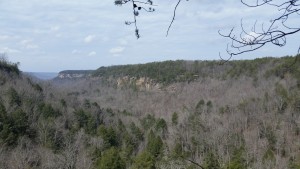 Just after nightfall we saw a light coming from the trail towards the site. It was the headlamp of the ranger that we had met the prior afternoon. He greeted us with "you boys can't be here." We asked why, and he said that he moved our reservations to Hobbs in his computer system, so we had to be at Hobbs. We offered to start hiking to Hobbs, but he reminded us that it's against park rules to hike at night. Matt asked what our options were, and he told us that we had none. I asked why we couldn't just stay there, since we paid money for a reservation, and weren't hurting anyone. He paused for a moment and then said that someone else reserved it online. Incredulous, I asked him to confirm that someone reserved it online at some point after he changed my reservation at 3:00 the previous afternoon, and that the person who reserved it still has not arrived to claim it at 6:45 (well after dark), to which he replied "apparently." We asked about the other vacant campsites to which he responded "they're all reserved."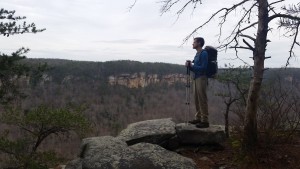 So he told us that he was going to walk the rest of the campground, and when he returns we'd need to be packed up and ready to go to his truck. He was going to take us back up to the Stone Door Campground for the night. We asked if we could give the "missing party" more time to arrive and claim their site, and he responded in the negative. So we packed up our site and waited half an hour for him to return.
It was pitch dark when he returned. I was feeling frustrated with his inflexibility and questionable honesty, so I half-sarcastically asked him why he's not concerned for the safety of the missing party who had rightful claim to the campsite. He didn't have a response. I said "we all have headlamps and outdoors experience, and we'll volunteer to form a search party. I'm terrified that the missing campers are sitting at the base of a cliff somewhere bleeding out."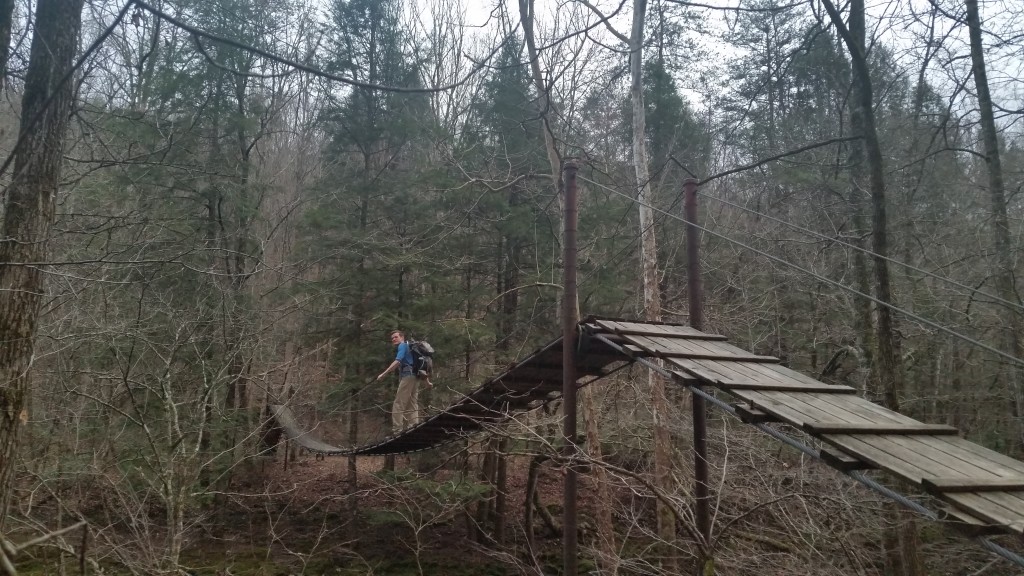 "I'm sure they're fine," he snapped. "Follow me." So we followed him to the trail where he had a friend waiting, wearing a headlamp and a backpack. She had been out hiking with her unleashed dog, and he was giving her a ride back to the ranger station. He told us that his truck was about a quarter-mile up the trail, and led on. After a few minutes of walking over small hills and through dry, rocky creek beds, I said "this feels an awful lot like hiking the trails after dark." One of my friends snickered. Silence from the ranger.
We hopped into the back of the ranger's pickup truck with the dog, who the ranger told us answers to the name Jake, and assured us that Jake is a friendly dog. Jake was indeed a friendly dog, which is a good thing because Matt and Corey had to hold him steady while the truck bounced through creek beds, swerved in mud, and bottomed out on boulders on the way to the paved road. The air felt chilly once the truck began speeding up the wet, winding road to the ranger station, and we felt a few rain drops.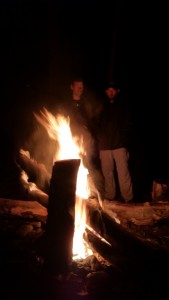 The four boys (Jake included) hopped out of the bed of the pickup truck in the Stone Door parking lot, and the ranger instructed us to pick any of the vacant sites at Stone Door Campground. We parted ways with Jake, his owner, and the ranger and found ourselves a site. It had rained up at the Stone Door Campground and it was dark, so finding dry kindling presented a challenge. Matt took what little we could find and built a fire, and then we set up the tent. Soon after the fire was lit, the drizzle began. We found large, wet logs and threw them onto the fire, hoping to get a blaze going before the rain grew any stronger. Luckily they dried out quickly before the rain intensified to a downpour, and burned bright and hot despite it. We put on our rain jackets and stayed up late by the fire, laughing about the events that had transpired that evening, and enjoying the last night before we all returned to our homes in separate states.
In the morning we had breakfast and packed up everything but the tent, which was still soaking wet from the rain that had continued through the wee hours of the morning. We hiked down to the overlook on top of the Great Stone Door to drink in the views one last time. On the hike back to the campsite to retrieve the tent, one of us brought up the subject of biscuits and gravy, and our mission upon leaving Savage Gulf turned toward finding a greasy breakfast joint.
**Thanks to Corey and Matt for ALL of the photos – I failed in the camera department on this trip.**

Cell Reception: Inconsistent, but present at the higher points – zero bars in the valleys.
Wildlife spotted: Salamanders, deer, hawks, ravens, cool looking centipedes, squirrels, chipmunks, crawdads (crayfish), garter snakes, woodpeckers & other birds. Oh, and Jake the dog.
Cost: Reserving a campsite was $14.14 per night (total with taxes). The website for booking reservations is awful, and tries to make you spend way too much money when booking multiple nights. Be sure to make your reservation for each night as a separate transaction to avoid accidentally overpaying. And remember – camping is at designated, pre-registered sites only!
Tips: Beginners and people with kids can take advantage of the following campgrounds which are very close to parking areas: Stone Door, Savage Station, and Collins West. Or, you can hike a couple/few miles on easy trails to the following sites: Dinky Line, and Alum Gap. Be sure to camp exactly where you registered, no matter how empty the campgrounds are. Yes, it's arbitrary, but the rangers (or at least the one we met) are very inflexible and will relocate you or remove you from the park if you camp at any site other than your reserved site, even if you're the only camper at the campground. Early – mid March seemed a great time to visit. The weather was cool but not cold, and we had no issues with mosquitoes or ticks. I imagine that October would be similar, but with the added bonus of fall colors. Views from the North and South Rim Trails are beautiful; these trails are easy, but very long.
What to bring: Good boots and/or trekking poles
, especially if you're going to be hiking the very uneven Connector Trail or Stagecoach Road Trail. Bring a water filter or water treatment tablets
or drops
, as water sources are plentiful but mostly backcountry streams. Bring toilet paper, because the pit toilets are not stocked. And do not forget to bring a camera – the views are stunning!
What to expect: Well marked, well manicured trails. Main trails are marked with white blazes, while side-trails to campgrounds and overlooks are marked with blue blazes. Expect solitude on the longer trails, especially on weekdays. We didn't see anyone except our friendly park ranger between Friday afternoon and late morning on Saturday, and only a handful of day-hikers around Savage Falls on Saturday.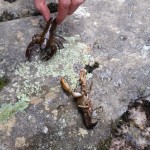 * "Gulf" equates to "canyon" here at the park.
** There are no railings, fences, nets, etc. around the bluffs – just huge drops, hundreds of feet down. Watch kids and pets closely, and don't take dangerous selfies. Seriously. You'll die.
*** Moleskin is handy stuff that is sticky on one side, and smooth/slippery on the other. It can be found in most backcountry first aid kits
. You put the sticky part on your blister or "hot spot" (skin that's rubbed raw) and the smooth part should glide up against the material that was rubbing you the wrong way.
**** Duct tape is an awesome backcountry emergency tool. It can help temporarily repair ripped packs, broken straps, torn tents, split boots, splint injured limbs, etc. It's always good to have at least a few feet of duct tape when you're far from help. Tear sections off of a roll and wrap it around itself or around something that you plan to carry into the backcountry. Some people wrap it around trekking poles, some around their lighters, flashlights, knife handles, etc.
---
It's possible that I'll receive a commission for items that you buy through the Amazon links above, but at no additional cost to you. I only recommend items that I personally use and enjoy, and the commissions will help me offset the cost of hosting this blog. Thanks, and happy trails!