Three hours from St. Louis, two and a half from Chicago, one and a half from Indianapolis, and less than an hour from U of I in Urbana-Champaign, Forest Glen Preserve is close enough to be a great day hike and/or picnic destination, but challenging and remote enough to be an excellent one or two-night backpacking destination. Mix and match trails to make your hike as easy or difficult as you'd like, but following the River Ridge Backpack Trail as mapped may be physically challenging for unconditioned folks to accomplish on a one night trip. A .pdf of the trail map is available here or can be found at the trailhead.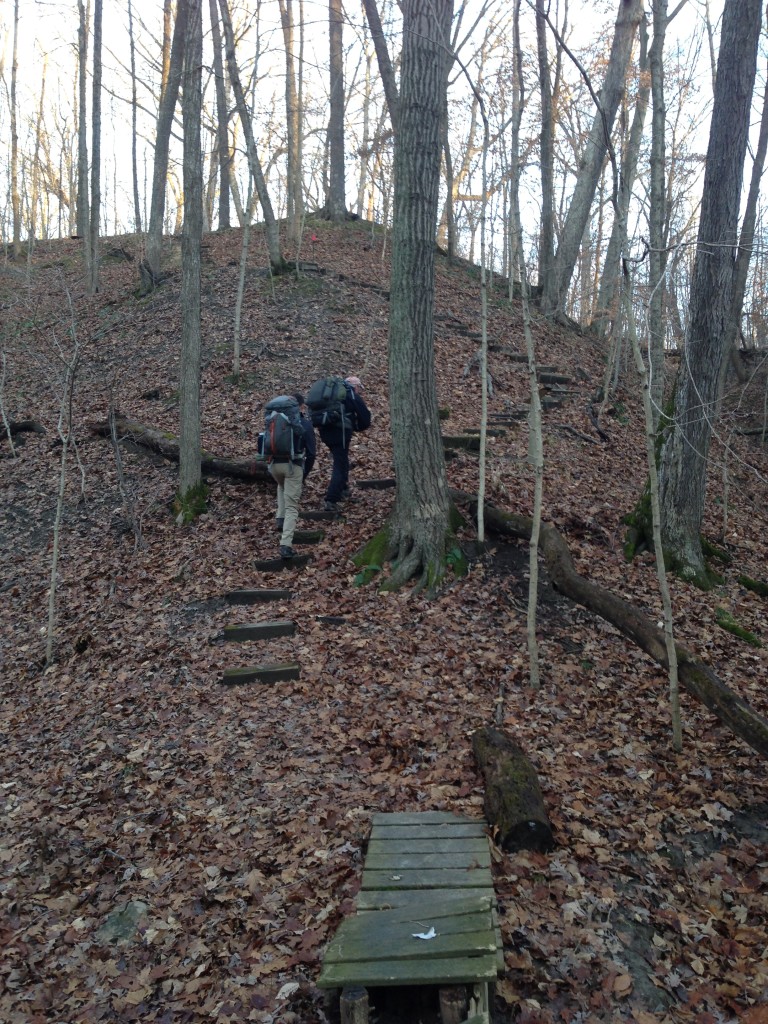 Choosing a backpacking destination between Chicago and Indianapolis is pretty easy – there are two. And one of the two doesn't permit camping between October 31st and April 1st*, so choosing a backpacking destination between Chicago and Indianapolis in December is even easier.
My brother, Joel, and I arrived at the parking lot for the River Ridge Backpack Trail at 2:30 PM on a Saturday afternoon, on the first weekend in December. My father had traveled from his home in Indiana to meet us there, and was waiting for us as we pulled in. My father and I were taking my brother out for his first backpacking trip. It would also be the first time that any of us had gone backpacking together.
This was my second trip to Forest Glen Preserve, and I was excited to return. It's unusual for a county park in Illinois — having family camping areas, nature education centers, picnic and youth group camping facilities, interpretive trails, and most of all for having specific hiking trails and primitive camping accommodations for backpackers. The amenities rival those of some of the nicer State Parks in Illinois. And the ecological diversity is surprising for a county park in the middle of farm country; the backpacking trail alone crosses wetland, passes a lake and a river, traverses mature hardwood forest, and finishes by passing through a vast prairie restoration area.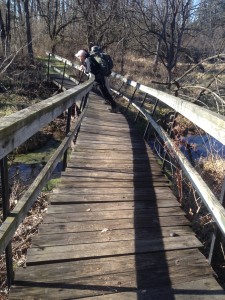 The backpack trail is an 11 mile loop with rolling hills which, admittedly, was an ambitious choice for a one-night beginner's trip. Getting started so late in the afternoon added an additional challenge, since our campsite was 7.5 miles away and we had less than two hours of daylight remaining.
The trail begins (and ends) at the staff office on the west end of the park. It started out very flat, first crossing a marshy creek by way of a crooked steel frame footbridge, then follows the west shore of a large pond formed by a dam. Visiting during leaf-off provided us with unobstructed views of an old barn and a covered bridge across the pond from the trail.
After hiking a mile or so past the pond and through hardwood forest on a relatively flat trail, we exited the woods into an open area with three buildings and a large parking lot. The building to the right is a nature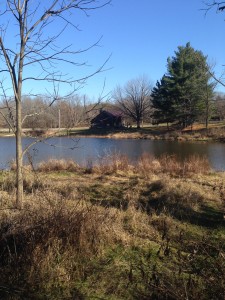 center, and has an outdoor coop containing wild turkeys. The trail ends here, and I had to think back to my prior visit in order to find our way to where the trail picks up. Keeping the Nature Center to our right (you should visit the turkeys while you're there), we walked toward the east-west park road up ahead. We made a right on the road, and followed it downhill for a moment. The trail continued just off the road to the left at the bottom of the hill.
Our first forty minutes of hiking were spent moving at slow pace. Joel had some comfort issues with his pack, so we stopped occasionally to make adjustments.** My father stopped once to ditch a layer as he warmed up. Once we were all as comfortable as we could be made with small adjustments, we picked up the pace to cover as much ground as possible in the little daylight that we had remaining. There was still 5.5 miles of trail between us and our campsite, and we had less than an hour and a half until sunset.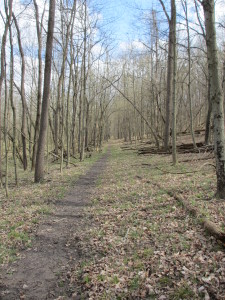 The next mile and a half were slightly more challenging, but we passed through the Group Camp area with some daylight and energy to spare. The Group Camp was completely vacant. The next two miles were considerably more challenging, and we needed to slow our pace at times to prevent our beginner from burning out. To his credit though, he was the only member of our party not to slip and slide down a muddy section of trail on the seat of his pants. The trail veterans were the two covered in mud.
During the two miles between the Group Camp and the next road crossing, the backpack trail approaches the Vermillion River twice. Each approach offered lovely views of the river valley, views that would certainly have been enhanced by colorful leaves or snow and ice.
The sun was down and headlamps were required a half mile before the Backpack Trail intersected the dirt service road leading south to the observation tower. We stopped at a bench on the service road to rest a moment, and to get an idea as to how far we'd have to hike before arriving at East Camp. Joel grumbled a bit when we told him that it was still roughly two miles away. I couldn't blame him – we were moving at a quick pace for a beginner trip, and the dark of night added some uncertainty to navigation.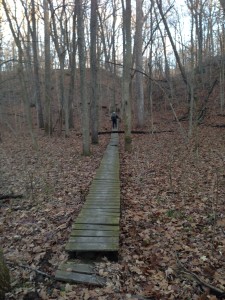 The remaining two miles continued to roll quickly through ravines and over ridges. This kept the experienced hikers a little short of breath, but proved increasingly challenging for the newbie with every step.
East Camp is a series of developed campsites along either side of the backpack trail, which widens out at East Camp to function as a dirt service road. Each site has a picnic table, fire ring, and a covered garbage can, and all sites share a common pit toilet. The sites themselves sloped a bit, but ours didn't slope enough to cause us to roll off of our sleeping pads. East Camp appears to be the easternmost developed point in the park, and may literally be a stone's thrown from the Indiana border. We finally arrived there around 5:30PM, well after the sun had set and a thick blanket of frost had covered the ground.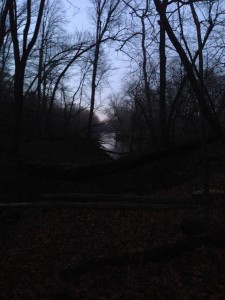 Joel was eager to rest at the picnic table, and we were all looking forward to a roaring campfire. Getting the large pieces of firewood to ignite proved more difficult than we anticipated due to the thick frost, cold temperatures, and a recent dusting of snow. The best that we could do was to get some logs to smolder. We didn't have the patience to keep adding kindling and paper garbage all night, so we ate our dinner, pitched the tent, and headed for the refuge of the tent.
It was very quiet in the woods. In the tent I almost felt as though I was at some far off destination until we heard a dog barking at a nearby farm. We ignored him and had a good time joking around, but it wasn't long before we were all asleep. Temperatures got down into the mid 20's overnight and my father's gear, as well as the matching gear that he lent to my brother, proved to be a little light to be comfortable at those temperatures. But it was warm enough that they were able to get some sleep.
We woke up early, forcing ourselves from the relative comfort of our sleeping bags into the cold, and made breakfast at the picnic table. I typically don't eat cooked food on short trips in an effort to pack light and save money – but the smell of my brother's Mountain House meal proved too tempting, so I had a bite or two of his breakfast in addition to my own.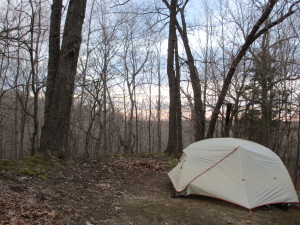 While we were shaking the condensation off of the tent a young couple passed beneath our site on the backpacking trail. These day-hikers were the first people that we had seen since hitting the trail the previous afternoon.
There were only 3.5 miles between East Camp and our cars at the Staff Office, but the first two of those miles are as challenging as any of the terrain that we had traversed the evening beforehand. With tough trails come interesting views, and this section of trail had plenty of views. The white trunks of mature sycamores stood out among the black walnut, and clear streams cut ridges into fascinating shapes. At one point we could see the Vermillion River, and the trail overlooked a section of trail that we had covered in the dark the night before.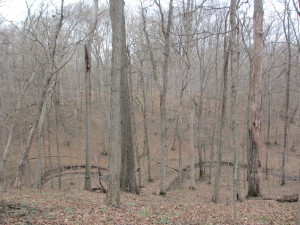 For a short segment the Backpack Trail merges with the Big Woods Trail, an interpretive trail that highlights the various hardwoods that are common in the area. To Joel's delight, the trail evened out here and remained even up to the main entrance road, where the trailhead for the Big Woods Trail begins.
The Backpack Trail continued westward for another mile, largely following the border of the preserve's Prairie Restoration Area where it meets expansive corn fields to the south, until the cars and staff office came into view.
We took a few photos, congratulated Joel on completing his first backpacking trip, and bid farewell to my father. Another great visit to Forest Glen Preserve.
Wildlife Spotted: Birds, squirrels, waterfowl, and on my previous trip I saw numerous deer. (Wild turkeys too, but they don't count since they were caged)
Cell Reception: Zero bars for all three parties throughout the entire park. In fact, two phones were completely drained of battery due to constantly searching for a signal.
Costs: As of January 2016: $10 for parties of 10 people or fewer, $1 per person for parties greater than 10. Registration is required, and you can pay the fee online using PayPal when you register.
What To Expect: Very well marked trails (aside from the weird jog a the nature center) if you're doing the trail clockwise – look for the red blazes. Wildlife, a nice diversity of mature hardwoods, and a lot of up-and-down hiking during miles 4 through 10.
Regrets: Not having time to climb the lookout tower or explore the Hickory Ridge Trail on either of my visits to the park. Oh, and trying to cram 7.5 miles of hiking into 2.5 hours, partially in the dark, on a trip for a beginner. Don't do that to your beginner. It's just mean. We only did it because it was the only way that we could hike together before the next spring.
Tips: For complete beginners, kids, or people who have time to kill, utilize both of the backpacking campgrounds and make a two-night trip of it. The 11 mile loop can be broken down for kids and beginners into a 3 mile easy day, a 4.5 mile tough day, and a 3.5 mile intermediate day. You can also explore the nature center as well as several additional miles of trail, and take the trails at an easy pace. Bring your own TP in case the pit toilets aren't adequately stocked, and bring your filter or your water treatment pills.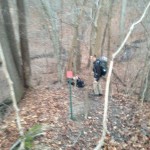 * Shades State Park in Waveland, Indiana has a short backpacking trail and remote campsite that would have been perfect for a beginner's trip – if not for the fact that they close for five months around the winter season. I hope to do a full write-up of Shades SP in 2016.
** Beginners: You will almost certainly be tugging on various straps for the first few miles of your first hike to make the pack fit more comfortably. You may even have to unpack and re-pack once or twice while on the trail if you don't have the help of an experienced backpacker before you get started. It's totally normal. Don't try to hike a dozen miles with a backpack that hurts. Take the time to stop and get the fit right.
---
It's possible that I'll receive a commission for items that you buy through the Amazon links above, but at no additional cost to you. I only recommend items that I personally use and enjoy, and the commissions will help me offset the cost of hosting this blog. Thanks, and happy trails!