Five hours from Chicago and Minneapolis, roughly four hours from Madison and Milwaukee,  and less than two and a half hours from Green Bay,  backpacking in this wilderness area may not offer dramatic bluffs or broad vistas, but you will definitely experience peace, quiet, and wilderness.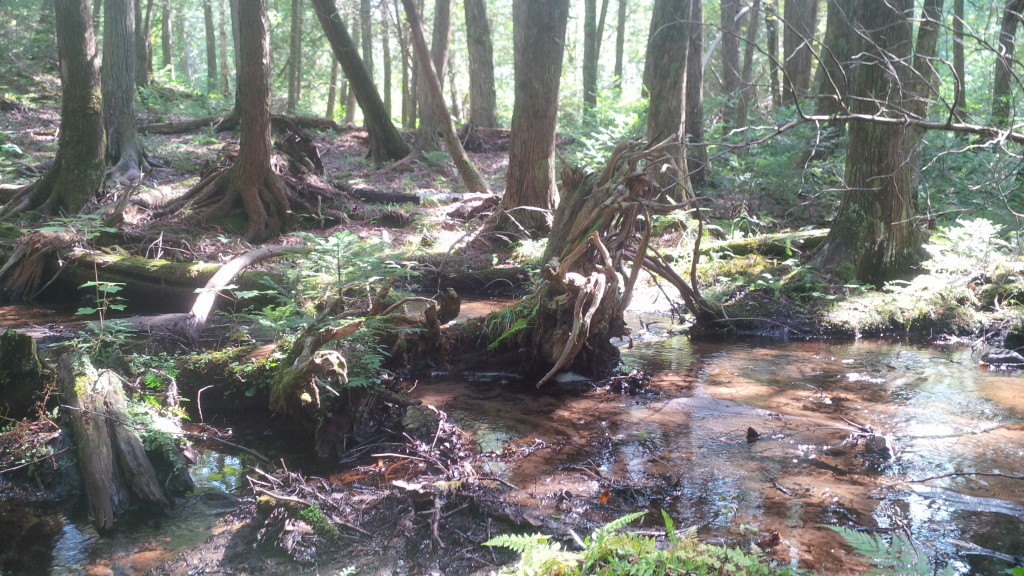 I set out early one warm Saturday afternoon in September to explore Whisker Lake Wilderness for the first time. Having previously backpacked various Nicolet National Forest* destinations I embarked with expectations of hiking well-groomed trails, pitching my tent on unofficial-yet-unmistakable campsites, and of running into a few fellow backpackers on the trail.
With those expectations in mind I dressed, packed, and planned for a one night solo trek. My intention was to cover every mile of marked trail (the red ones) on the forest service map between Saturday afternoon and Sunday morning, and to find a nice, well-established campsite for the one night that I'd be sleeping in the forest.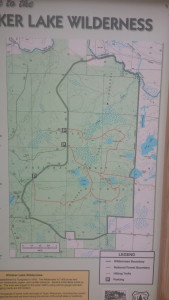 The weather was warm for a Labor Day weekend in the North Woods (87°F and humid), so I opted for shorts and a short-sleeved shirt as well as my Vibram Five Finger EL-X
 shoes (I love these for hiking with a light pack, day pack, or no pack). Also to prepare for the heat I packed a one-liter Nalgene bottle, my 1.8L Platypus, and my water filter. I opted for my silk sleeping bag liner, instead of bringing my down sleeping bag which would have been terribly stuffy on this humid, 70° night. I also brought my pack towel in case I had an opportunity to go for a dip in any of the wilderness area's seven lakes. My total pack weight with food and drink was a hefty 23lbs., due in large part to the fact that I haven't picked up a one-man sleeping arrangement yet.
My ride dropped me off at the middle trailhead which sits at the "T" intersection of Forest Roads 2150 and 2151. I entered the wilderness area to the east of the road and was immediately greeted by some signage, including a map much like the one that I provided in the above link.
The trail starts out narrow but clear, and stays on a rather straight track with very gradual inclines and declines. The footing is very even and well-worn for the first mile. It seems likely to have been a double track road or railroad grade at some point due to its height above the surrounding creeks and marshes.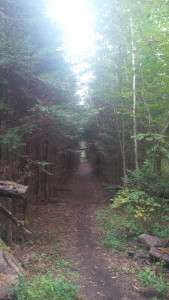 The first major fork isn't shown on the map, but occurs within a few minutes of leaving the trailhead. The trail to the right leads to a trampled area at the north end of Little Riley Lake that shows obvious signs of being used frequently as a camp site. If a brave paddler was willing to portage 1/2 mile from their vehicle at the trailhead, this would be a logical place to put in. The next unmapped fork offers a trail to the right that seems to grow faint after 1/8 of a mile or so, and which I didn't have time to explore in my short visit.
Back on the main trail and off to the right I found a brook whose two branches ran in tandem with a long, thin island separating them. I took time to wade in the creek, watching the abundant fish swim between my feet, and the frogs scurrying away.
When I arrived at the first fork displayed on the map, the trail to the right was obviously the more popular route based on how well the path was worn. I followed the trail to the right. I hoped to follow the southeastern loop past Cruiser Lake and Camp Thirteen Lake, and back up to the central east-west trail. From there I could connect to the northeastern trail to visit the eponymous Whisker Lake before nightfall.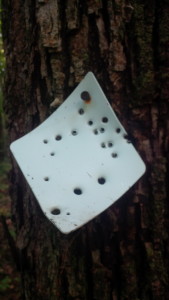 I passed a trail to the right which led down to Riley Lake. I'd visit that lake on my way out the next day. It was here that I noticed that the trail was marked with white diamond-shaped blazes. I continued on to where a two-way fork is shown on the map: one way leading west to the Forest Road and the other leading east to the lakes.
The farther south that I progressed from the Riley Lake trail, the more overgrown the trail became.  By the time I arrived at the east-west fork the footpaths were becoming difficult to discern. The old railroads/logging roads enclosed me on either side and kept me moving in the right direction, but lent the hiking style to bushwhacking (which I was not prepared for).
My arrival at the fork revealed that there were not two, but three trails that diverged from the one that I was on. I stayed to my left, choosing to continue toward Cruiser Lake.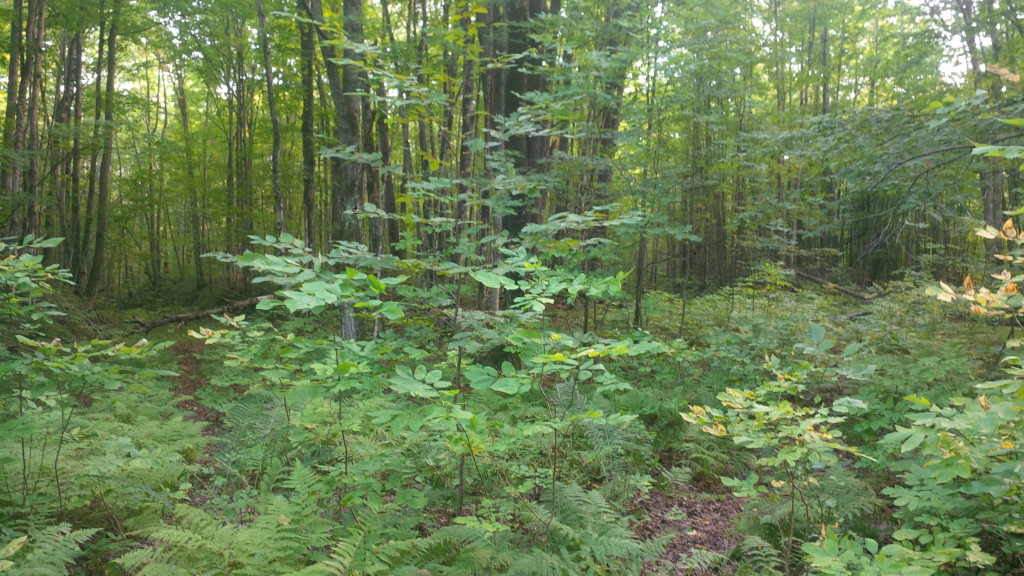 When I arrived at Cruiser Lake I was greeted not by a large expanse of surface water, but by a large marsh. I could see where open water might begin, but I couldn't find a clear vantage point that would permit me to see the water itself. There was a grove of poplars  to my left, and the marshy north shore of Cruiser Lake to my right.  I continued forward through some tall grass and into brush and immature forest, looking for where the trail picks back up. I couldn't find it; nor could I find any white blazes to get me started in the right direction. I also noticed that the trail that I had come from when approaching Cruiser Lake would have been difficult to find while traveling in the opposite direction, had I not just emerged from the woods there myself.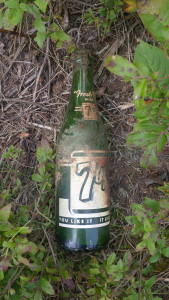 I hiked back up to the three-way fork and took the center path which, I assume, is the one of the three that is not represented on the map. Like the path to Cruiser Lake, this trail was overgrown, crisscrossed by fallen trees, and closed in on the sides by earthen walls. This one seemed to dead-end at a marsh, so I headed back to the three-way fork once again.
The third trail was the same style as the first two and equally overgrown, but eventually tapered into a faint single track trail. The trail seemed to be marked from time to time with pink plastic ribbons tied to small trees and low branches. Eventually the ribbons disappeared and the trail became so faint that it would be hard to track with the remaining daylight. And I still needed to find a place to camp.
I tracked all the way back to the main east-west trail and hiked the eastern route toward Edith Lake. This trail was overgrown with small pines, although I could still tell that it was formerly some sort of road. I could also tell by the large number of spider and caterpillar webs that I caught with my face that this trail had not been traversed in at least a day or two. Instead of moving on to Edith Lake I decided to turn south to attempt the eastern half of the southeastern loop. I was determined to find out how it connected at Cruiser Lake.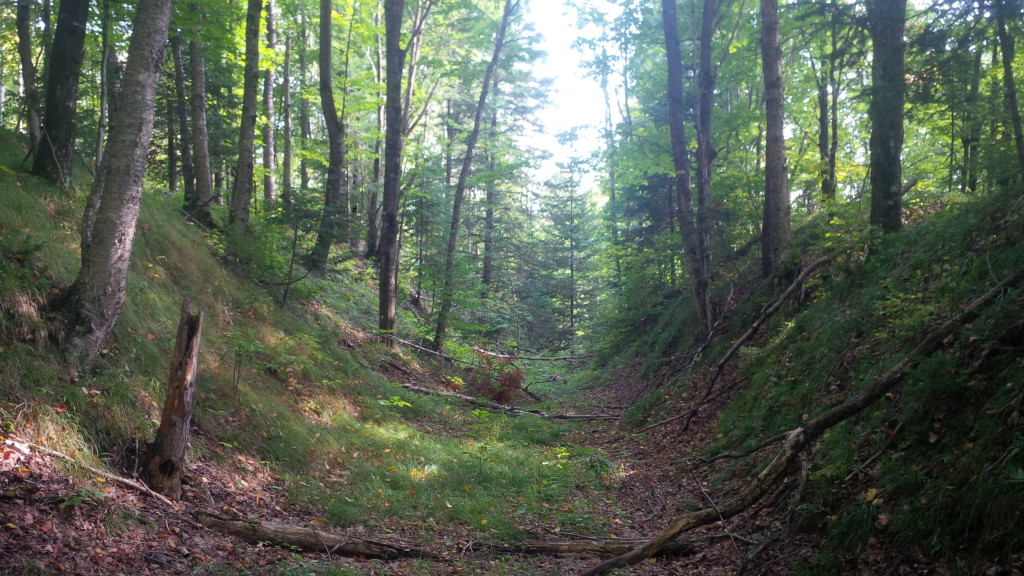 This trail began with the feel of a more traditional hiking trail, and less of the former-road feel that most of the trails thus far had offered. I passed high and west of Camp Thirteen Lake through some quickly rolling topography. The lake could be seen from the trail at some points, but without a great deal of effort and proper gear I wouldn't be able to make the shore of the lake on my one-night trip.
One of the interesting topographical features in this area were small kettles, some of which were half-filled with black, stagnant water. The air surrounding these kettles was thick with mosquitoes.
Just south of Camp Thirteen Lake the trail turned east, and then south again. I selected a site a couple hundred feet east of the trail and over a couple of short ridges. The ground cover was thick with dead leaves and sticks in all directions, so a camp fire would have been easy, but not very safe. I found the flattest patch of ground available and set up my tent. The sky was clear, and the air was still and hot, so I left the fly off for the night.
I was startled from journaling by a large porcupine that was walking directly toward my tent. He came within seven or eight feet of my all-mesh easterly facing wall before I was able to scare him off into another direction. After thirty minutes or so of sitting silently, I was startled again by two bucks chasing each other a dozen yards or so from my tent, snorting, stomping, and making a great deal of noise. After the victorious buck huffed and stomped for a few minutes to declare his ownership of this patch of forest, he vacated the area. The surrounding woods were then eerily quiet for hours, save for the occasional buzzing fly or calling bird. A series of loud, slow footsteps approaching my tent at 3:00 AM was the last wild encounter, but was quickly ended by my loudest, deepest "ahem." Silence thereafter.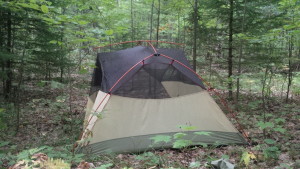 I awoke at 6:30. I relaxed and enjoyed birdsong while I ate breakfast, and picked up camp making sure to leave nothing behind.  The trail headed southward, and then westward, becoming totally obscured at times, and perfectly obvious at others. The trail seemed to be marked with white blazes only when they were least necessary, although at one point a couple of old, fortuitously placed blazes guided me through an area where the path had been completely covered by several fallen trees and at least one whole season's worth of thorny undergrowth.
After a few educated guesses and a great deal of kicking my way through waist-high undergrowth I finally found my way to the north end of Cruiser Lake via the bed of the erstwhile trail. Success!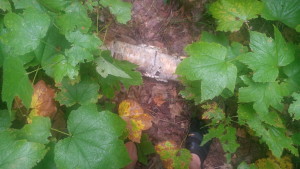 My ride was to pick me up at the trail at 10:30 A.M., and I had spent a lot of time bushwhacking in shorts without a machete. I didn't have a great deal of time left to explore. I wanted to get a picture of Riley Lake (hazy lens – photo not posted), and also to make my way to either Edith Lake or Whisker Lake depending on what kind of time I had at my disposal.
There were two parties camped out at Riley Lake – not so much the backpacking type as they were local car-campers, who had carried their coolers, six-man tents, tiki torches, and inflatable pool rafts about a mile from the closest parking area. (This trek would be the same for paddlers, but the trails to this point are pretty clear and easy.) It seemed like a nice place to set up camp.
Back on the trail to Edith Lake my face met with fewer spider webs since I had cleared many of them the evening beforehand. I approached the fork at which I had turned right the night before to find my campsite, but continued straight ahead this time. Heading eastward, the trail became overgrown once again for several hundred yards. I finally enjoyed a break from pushing through brush and fresh pine boughs when a clearing opened up with lichen-covered ground. While in this clearing, views of Camp Thirteen opened up to the right as the path led just a few yards to the north of the muddy shoreline.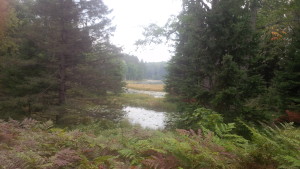 The trail then entered immature woods, and became less and less apparent. It finally dead ended at a marshy creek. I looked for a while and saw where the trail probably picks up on the other side, but my time limitations wouldn't allow for that type of exploration on this trip.
I made my way back across the Wilderness Area on the (now very familiar to me) central trail, towards the trailhead at which I was scheduled to be picked up. I stopped twice along the way to enjoy a moment at the divided brook, and another at Little Riley Lake.
Wildlife Spotted: Deer, mosquitoes, porcupine, waterfowl, mosquitoes, ribbon snakes, spiders, toads, frogs, birds, chipmunks, underground beehives, and mosquitoes
What to expect: Silence, wildlife, greenery, mushrooms, mosquitoes, backtracking, wetlands, bugs & webs, solitude
What to bring: Pants, DEET (or mosquito netting for your hat if you're into that look), a compass, and possibly a machete if the National Forest Service or volunteers don't get around to grooming the trails any time soon (if you hear of any volunteer opportunities at Whisker Lake Wilderness, please contact me — I'd be happy to help out!)
Regrets: Wearing shorts**, setting aside only 24 hours to explore, not getting to see the area's namesake "Whiskers" at Whisker Lake (don't worry — I'll be back!)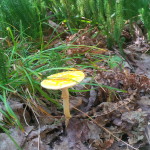 * Nicolet National Forest, from what I gather, was formerly the independent eastern unit of what is now called the Chequamegon-Nicolet National Forest (Chequamegon was the formerly independent Western unit) – which spans several large tracts throughout northern Wisconsin and offers great Midwestern backpacking, camping, hiking, paddling, hunting, fishing, and even whitewater rafting experiences. Segments of the Ice Age Trail wind through the Chequamegon-Nicolet National Forest as well.
** The thorny, overgrown areas in the southeastern loop left my lower legs looking a bit like hamburger meat. Sturdy pants that you no longer care about would be advisable if you're attempting the southeastern loop.
…………………………………………………………………………………………………………………………………
It's possible that I'll receive a commission for items that you buy through the Amazon links above, but at no additional cost to you. I only recommend items that I personally use and enjoy, and the commissions will help me offset the cost of hosting this blog. Thanks, and happy trails!