There's nothing more exciting for a new backpacker than the purchase of their first backpack. Sure, the other gear can be fun to collect, but the backpack makes it official. You're not just a camper any more. You're ready to go places – wild, and otherwise inaccessible places.
But there are several variables to consider when shopping for a backpack, plus dozens of brands, and hundreds of options. So getting started in the shopping process can be intimidating. Is there a point to spending an extra $200 on a particular bag? Do you really need an 80 liter pack for a 3 night trip? Do you really need to stick with a name brand?
The best way to start is to define your own personal style. What type of hiker do you think you'll be? What kinds of adventures do you hope to undertake? How many creature comforts do you NEED to have at your campsite? How many days do you plan to spend in the wilderness at any given time without resupply? How many miles do you plan to cover each day? Do you want to be light and fast on the trail, or slow on the trail and comfortable at the campsite?
Answering these questions in advance will help you narrow your search, saving you a ton of time, and sparing you from potential decision fatigue.
After giving those questions some consideration for a moment, check out my tips below.
Is the Price or Brand Name Important?
Sort of. You certainly don't want to buy a no-name, fly-by-night brand that doesn't have any user reviews. But the most important thing is how the pack fits. Generally the most expensive brands do feel great on the largest number of people. But everyone is different, so if a "lesser" brand is about as comfortable, has good reviews, and saves you a few bucks, go for it. Some people are more comfortable in the cheaper brands.
The more expensive packs also tend to use the most advanced materials and engineering ideas – stronger, lighter, more water-resistant materials, etc. The cheaper packs will often do just fine, but may be heavier for the same level of comfort, durability and waterproofing.
Typically, the more padded the backpack, the more expensive it will be. The moisture-wicking, breathable fabric in the padding can be costly. (Maybe an incentive to keep your gear light?)
Tips for budget shoppers: Consider splurging on the more expensive backpack if nothing else feels right, and go a little cheaper on other gear to make up for it. Or try to find the pack used, or wait until it's on clearance. Backpacking gear tends to go through seasons like clothes, cars, etc., and I've had decent luck getting great gear on spring clearance.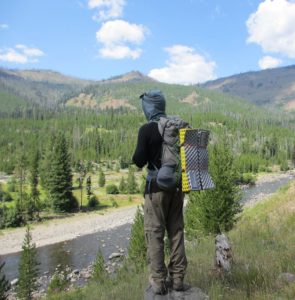 For comfort-backpackers who aren't on a budget, Osprey makes great packs that beginners love. Their Aether backpack comes in 60 liter and 70 liter sizes for men, and the women's equivalent, the Ariel, comes in 55 liter, 65 liter, and 75 liter sizes for women.
For lightweight backpackers, Osprey and Granite Gear make excellent packs. I have friends who recommend both brands with great enthusiasm. One of those friends is in love with his Granite Gear VC 60. The Osprey Exos 58 backpack will probably be my next pack.
When to Go Heavy & Padded
Do you plan to bring a camp chair plus the thickest sleeping pad possible? Will you be cooking three-course meals and bringing a hatchet and a portable toilet seat? Or will you be mountaineering? Fly fishing in a cold mountain stream? Then chances are you'll need a comfortable bag. The heavily padded bags are usually, well,  heavier. The frames are also heavier and a little stiffer. But this extra structure will help support the added weight without digging into your hips and shoulders or straining your back.
Consider buying a well-padded pack:
If you're bringing one or more of any of the luxuries items listed above.
If you're a photographer, climber, fly fisherman or hobbyist who plans to bring other equipment along with you.
If you'll be backpacking in cold weather (highs in the 30's or lower), your gear will naturally be heavier. Everything from your tent to your cooking gear will be heavier than the gear of a 3-season backpacker.
If your backpack will be carrying cheap or bargain gear. It'll most likely add weight. (Pricier brands are generally tough and light, while the cheaper options are typically tough OR light.)
If you're going to be spending 5+ days in the backcountry without resupply. Your food weight will add up quickly, even if you pack really calorie-dense food.
If you're bringing your kids along and you need to carry some of their gear.
Gregory makes high quality packs with a lot of padding. Their men's Baltoro backpack comes in 65 liter, 75 liter, and 85 liter sizes, and the women's Deva model comes in 60 liter, 70 liter, and 80 liter sizes. Notice the higher carrying capacities – these are for folks who are serious about bringing along a ton of gear.
When to go Light and Thinly Padded
On the other end of the spectrum from the comfort backpackers who arrive to their campsite with beer, speakers, and double burner stoves, are the ultralight backpackers. Ultralight backpackers get great enjoyment from counting the ounces, finding double or triple uses for every piece of gear, and modifying their packs to shave off the ounces. This does come at the expense of some campsite comforts, but the benefit is the hiker's ability to move quickly and avoid injury, and feel almost entirely unburdened on the trail.
Even if you're not planning to go "ultralight," you can probably go with a lighter, less padded backpack if:
You are ok spending a bit more money on the lighter gear, or have the patience to shop for used gear and/or bargain hunt.
You plan to bring only the basic comforts (plus one or two reasonable creature comforts.
You are backpacking in fair (enough) weather.
You're not going to be in the backcountry for more than a few days without resupply.
If you're buying your pack from a company that specializes in ultralight gear, you should take their weight limits and volume very seriously.
Lighter, smaller backpacks will dig into your flesh or even fall apart if you're trying to carry too much weight for them. They aren't made for it. So don't buy a lighter backpack to try to save on cost or weight if you don't plan to carry lightweight gear.
As I said above, the Osprey Exos 58 (or it's 48 liter little brother) and Granite Gear's VC 60 are both great lightweight packs that I have seen in action. I've heard great feedback from their users.
How Many Liters Should Your Backpack Hold?
I think that retailers tend to overestimate on their volume recommendations, but I'm kind of a lightweight backpacker myself.*  If you're more of a comfort backpacker, you may want to stick to the retailers' recommendations.
Most go something like this:
Weekend (1-2 nights)  – 35-50 liters
Multi-day (3-5 nights) – 50-70 liters
Extended (5+ nights) – 70+ liters
Again, if you're mixing hobbies and bringing all sorts of extra gear, go ahead and choose a pack according to these guidelines, or maybe even a little bigger. Likewise if you're doing winter backpacking.
Do you already own gear? Your tent, sleeping bag, and sleeping pad will most likely list their volume in their product specs. Visit the retailer online or contact the company directly for the "packed" volume in liters. Add up the estimated volume of your existing gear and make sure that you buy a pack with room left over for the gear that you still need, plus essentials like clothes, food, and water (and bear canisters if you plan to do any hiking in the mountain & western states).
How to Make Sure the Backpack will Fit
Narrowing your search by size can save a ton of time and energy. Grab a measuring tape from a sewing kit and measure your hips (along the top of your hip bones), and have a friend measure your torso (from the big bone at the base of your neck down your spine to the imaginary line made by the measuring tape while you were measuring your hips).  Most manufacturers describe their size range in inches, so you can narrow your search results to packs in those sizes.
When you're trying packs on, try to load them up with weight that will approximate what you'll experience on the trail. I like to throw a pillow in the bottom, a  brick or dumbbell in the middle (up against my back) and a couple of pillows behind the weights and on top of them to fill out the pack.** Tighten up all of the load adjuster straps once you've closed up the pack.
The top of your hip bones should be right in the middle of the hip-belt padding. Tighten up the hip-belt straps to pull the bottom of the pack up against your lower back, and to hold a majority of the pack weight on your hip-bones. Tighten the shoulder straps and sternum strap (a strap across your chest that connects the shoulder straps) to comfort. Your shoulders should be holding very little of the weight.
The first thing to look for is whether the load lifter straps*** (adjustable straps above the shoulder padding) rise upward and back from the shoulder to the pack. If not, the torso length is likely too small, and your shoulders will end up taking too much of the pack weight. This will be very uncomfortable after a few miles. The load lifter straps should climb from your shoulder toward the pack at a 45 degree angle.
Wear the pack as you walk around the store or your house for a half-hour or more. The longer you wear it, the better. Do some lunges, climb some stairs, see if you can reach the water bottle sleeves, top pockets, etc.  Fiddle with the load lifter straps and other load stabilizer straps to see what they do. Try to do this in your hiking clothes and/or hiking footwear to get a feel for what to expect on the trail. If you have any spots that are particularly painful or bothersome, try on the next pack.
If your retailer has a generous return policy, you may even want to take the pack for a one or two-night trip near your home. Finding out that you hate your pack is far better when you're five miles from your car and an hour from home than when you're  fifteen miles into your three-day hike and eight hours from home.
Women may have different issues related to pack fit. Some women do better with a pack made specifically for women, especially if they plan to carry a lot of weight. In addition to being slightly smaller than men's or unisex packs, shoulder straps on women's packs are angled differently, and weight is distributed in a way that is meant to be more comfortable for women.
Other things to Consider
If you plan to climb, fish, cook, use trekking poles or ice axes, etc., you will want to buy a pack that has enough attachment points on the outside to suit your gear needs. They're also handy for drying wet clothes and tent parts while hiking, carrying sandals, etc.
A hydration bladder is a handy way to carry larger loads of water if you're hiking in dry season, or if water availability is uncertain (as was the case on my trip to Black River State Forest). Most packs these days will have sleeves and ports for hydration bladders. Designers have taken the heaviest item in your pack (water), and put it right up against your mid-back where it's supposed to be.  Like I said, you can find it on most packs, but it's something to look out for in the product specs just to be certain.
Some packs come with rain covers built in. It adds a bit of extra weight, but it can be really convenient. Other options are to buy a separate "duck's back" to cover your pack, or to use a garbage bag or other lightweight sack to line the interior of your pack (won't protect items in outer pockets).
The light and simple backpacks will typically have only one access point to the main compartment, and that is through the top of the pack. Some packs offer access points at the bottom or the front of the pack as well, which can be convenient for folks who carry a lot of gear.
That's all I've got for now, but it should be enough to get you started. Contact me through my About Page or by email if you have any questions, or if I accidentally left out some helpful information. Happy shopping!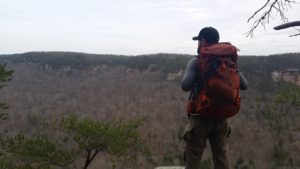 * Just for reference, on a trip through the northeast of Yellowstone National Park I had enough food and gear for a seven-day hike with no resupply. The gear that I carried kept me comfortable through night-time temperatures that got down into the mid 20's. A retailer might suggest that you need an 80+ liter pack for this type of trip, but I got by fairly comfortably with a 65 liter pack. For my style of backpacking that 80 liter pack would have been way too large. For you it might be different. (Feel free to email me if you're curious about my gear list for that trip.)
** This is the ideal way to pack your bag, with the heaviest items in the middle of your pack and up against your back. Light things should be on the bottom and the top, and farther from your back. This will keep the weight on your hips and off of your shoulders. It'll also help prevent that feeling that you're always about to tip over backwards.
*** Load lifter straps are dinky little straps that dangle just above and behind your shoulders, but they can make a huge difference. Give them a tug and the whole feel of your backpack changes. Once they're tight, you should be mostly rid of that "falling over backwards" feeling.
**** You need to read about our adventure at Savage Gulf, which is a great story, and a great backpacking destination.
---
It's possible that I'll receive a commission for items that you buy through the Amazon links above, but at no additional cost to you. I only recommend items that I personally use and enjoy, and the commissions will help me offset the cost of hosting this blog. Thanks, and happy trails!