Remember those Fruit Roll-ups that you used to get in your packed lunches when you were a kid? Think those but with the rich taste of real fruit, with a slightly more substantial consistency, and with an ingredient list that you can trust. That's fruit leather.
If you're interested in attempting DIY trail food, fruit leather is an easy one to begin with. Below I describe the process and ingredients for my most recent batch.
What You Need
Ingredients
Apples, Two Large (I used two huge Golden Delicious – 452g cored)
Raspberries, 1 cup (came out to 156g for me)
Blackberries, 1 cup (came out to 171g for me)
Cranberries, 1 cup (126g for me)
Cinnamon – I eyeballed it, but it was probably a bit more than a tablespoon
Cardamom – again, I eyeballed it, but probably just a bit less than a tablespoon
Honey, 1 tbsp
Water, 5 tbsp
Directions
Rinse your fruits. Core the apples, and slice thinly or shred them into the saucepan. Slice the cranberries into the saucepan as well. I cut them into halves. The raspberries and blackberries can be thrown in whole. Sprinkle the spices and drizzle the honey over the top, then add the water.
Cook on a low setting with the lid on, and stir occasionally. The contents will eventually become very soupy. Once the mix gets to the point that all of the fruit is completely submerged, remove the lid and stir more frequently to cook out as much water as possible.
When it's nice and thick, pour the contents into a blender, and blend until there are no large visible chunks. Then pour the mix onto a fruit roll tray (or a small greased pan if you're using the oven). Use a spoon to spread evenly.
I set my dehydrator
 at 140° for four hours, but then set it to 115° before bed so I wouldn't have to worry about overcooking. It probably spent 10-11 hours in the dehydrator at the reduced heat.
I'm not sure about timing for the oven, so you may want to check it from time to time after the first 4-5 hours (or even sooner if it's spread thinly over a large pan). But whenever drying foods in the oven you absolutely need to leave it open a crack to let the moisture escape.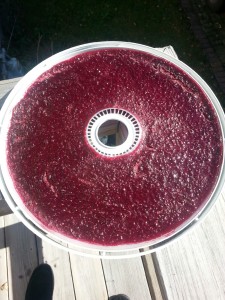 It turned out really well. I probably won't have much left for my upcoming trip since my wife and my three and one-year-old kids keep sneaking bites.
Yes, it's fruit and it's healthy and all of that stuff, but there's also probably 85 grams of sugar in it since it's an extremely concentrated 2 lbs of fruit. So if you're concerned with blood sugar, losing weight, or you're doing a low-carb paleo or primal diet, split it up into several servings over a few days or share it with your hiking buddies (who will love you for it).
I'll post another one of these when the seasonal fruits are hitting store shelves in the spring. In the meantime, please comment below with your own fruit leather recipes or variations of mine that you create.
---
It's possible that I'll receive a commission for items that you buy through the Amazon links above, but at no additional cost to you. I only recommend items that I personally use and enjoy, and the commissions will help me offset the cost of hosting this blog. Thanks, and happy trails!