Newport State Park is a great place to camp in Door County without spending the night on top of your neighbors as you might at Peninsula  State Park, and without spending a fortune on ferry rides as you would when visiting Rock Island State Park. (Which I still highly recommend, by the way, despite the high cost of getting there. Read more here.) The frequently intersecting trail system can make a hike as long (or short) as you want it to be through a series of loops, and the terrain is flat enough for any hiker, including children. Rocky shorelines provide rugged hiking and scrambling for more adventurous hikers.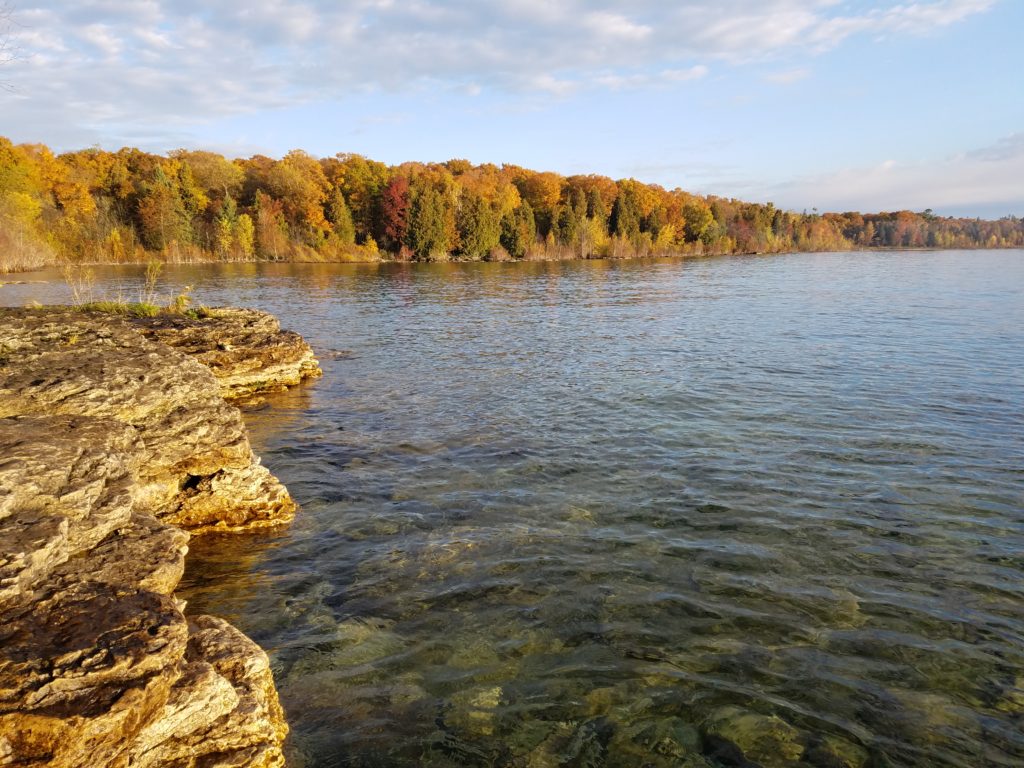 We stopped for a beer and burger in Jacksonport, WI during the one hour drive on Highway 57 from Sturgeon Bay to Newport State Park. I had gotten a late start on my three and a half hour drive to Sturgeon Bay from the western suburbs of Chicago, so the late breakfast we had planned became lunch.  My friend and local Sturgeon Bay entrepreneur, Rob, knew the local scene and recommended a crowded dive joint. This would be his first backpacking trip, and his professional life kept him tied to the area, so Newport State Park was a logical choice. It was also an excuse for me to explore the park for the first time, after reading for years about how beautiful it is.
Autumn in the Midwest was warm in 2016, extending the fair-weather backpacking season well into November. When we arrived at Newport early on Saturday afternoon the temperatures were in the mid 50's. There were around 10 other vehicles in the parking lot at the park office (parking lot #1 on this map), and presumably at least that many people there on the trails to take advantage of the unseasonably warm autumn weekend as well.
Overnight hikers and mountain bikers are required to buy a special window sticker, so we had to visit the welcome center anyway, but we also wanted to pick up a second map for Rob, and to ask the attendant if there are any special instructions or wildlife notifications. The State Parks employee was very friendly (unlike some encounters I've had in other states) and knowledgeable, and provided some great information.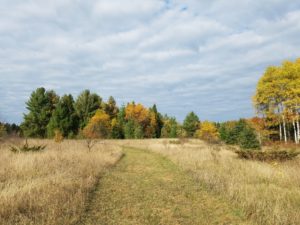 I had brought along my water filter, but we topped off on potable water from a spigot at the welcome center before heading down the trail. The most direct route to our campsite (#009) was 1.6 miles, however we were in the mood for a hike so we took the parking lot #1 access trail south to the junction of the Monarch, Rowleys Bay Loop, and Newport Loop Trails, then headed back north toward the park office on the Monarch Trail. The Monarch Trail is a grassy loop that first follows along the western edge of a forest, then twists and turns northwest and then south through a gently rolling prairie until it crosses the Rowleys Bay Loop.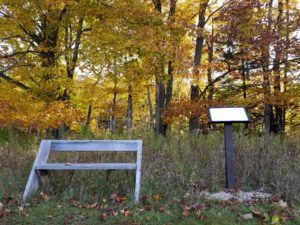 We were delighted to learn along the way that an organization called Write, On Door County sponsors a "Poetry Trail," which consists of a series of glass stands along sections of the Monarch Trail and Rowleys Bay Loop where hikers can read poetry written by local students and well-known Wisconsin poets.
We continued south along the western portion of the Rowleys Bay Loop trail, from which we passed campsites 13, 12, 11, and 10, and had several opportunities to hike down to the rocky shore of Rowleys Bay. The wind had picked up as the afternoon went on, creating choppy water on the bay. Low-hanging clouds blocked all but a few beams of sunlight.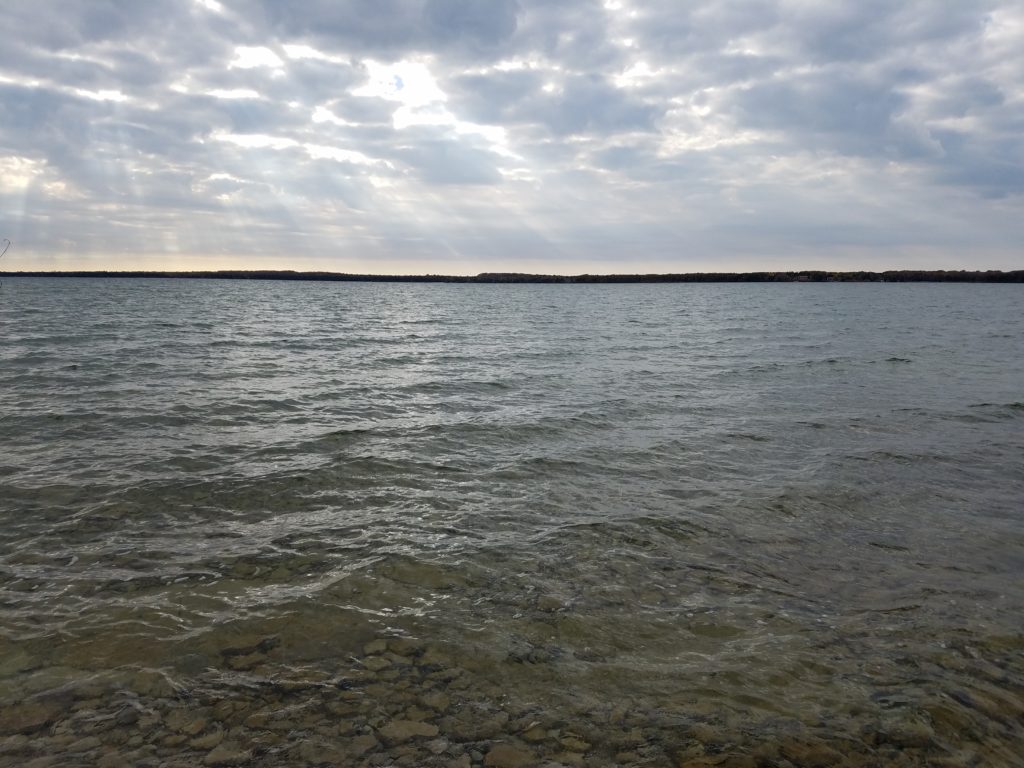 We arrived at our campsite on Varney Point with plenty of daylight to spare, and we began a search for firewood in the low woods between our campsite and the shoreline a dozen or so yards away. There were plenty of dead branches on the forest floor and even some dried driftwood near the shoreline, so collecting sufficient fuel for a good fire was easily achievable, even if it was difficult pulling it back to the campsite through the thick brush. The campsite had its own bench, fire ring, and food storage box (which we used, since the lady at the park office mentioned that the raccoons and porcupines can be a problem).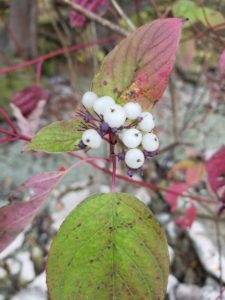 The shoreline to the east of the campsite was rocky, and overgrown with Red Osier Dogwood bushes. Climbing from rock-to-rock was fun, but carried with it the risk of getting poked in the eye by a branch.
Once we felt confident that we had completed all of the chores that required daylight, we decided that we would leave our packs and explore the trails that followed the shoreline to the east.
Campsites 7, 8, and 9 all share one trail and one vaulted toilet near the southern junction of the Rowleys Bay Loop and the Newport Loop. The trail splits to the east for campsites 7 & 8, and the trail for campsite 9 continued on to the south.
We headed north and east on the Newport Loop trail, leaving the shoreline to pass site 6, and returning to the shoreline to pass sites 5, 4, and 3 at Duck Bay. We left the Loop trail and took a side trail north to Sand Cove, where we enjoyed a rest and a nice view from the rocks at the north end of a long beach. The wind had died down, and the water appeared as smooth as glass.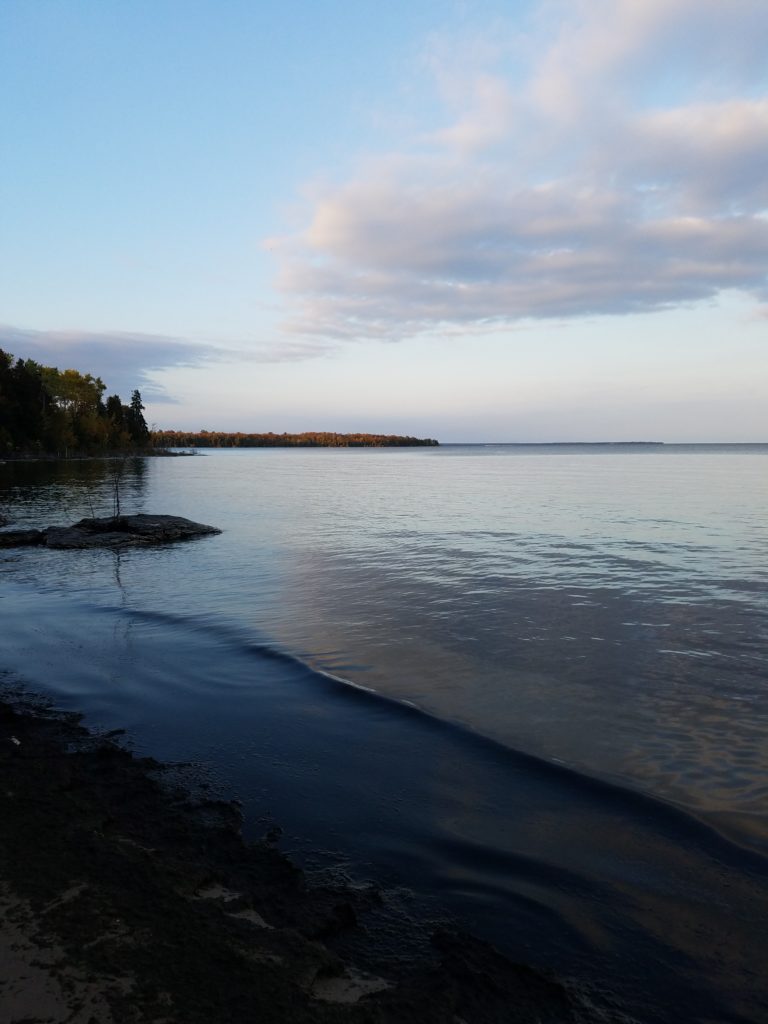 We took the Newport Loop trail south back to our campsite on Varney Point, stopping a couple of times along the way to pick up logs for additional firewood.
The sun had set by the time we returned to our campsite, so we started a fire and then set up our sleeping gear inside of the tent. Dinner was an easy couple of Mountain House meals followed by smoky scotch and a 16oz bag of Sour Patch Kids. (Not a healthy paleo snack like I usually enjoy, but what's life if you don't indulge occasionally?)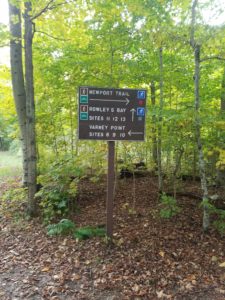 My cell signal in Newport State Park had been inconsistent and in roaming, but I was still able to send and receive text messages. Rob's signal was inconsistent while hiking, but strong enough at campsite #9 (thankfully) that we were able to listen to the Cubs win the National League Pennant on TuneIn Radio.
We woke up early the next morning, and checked out the southern access to the lake from our campsite. The rocky southern shoreline was far less overgrown than the shoreline to the east of camp, so we were able to scramble around while enjoying some great views of the sunrise.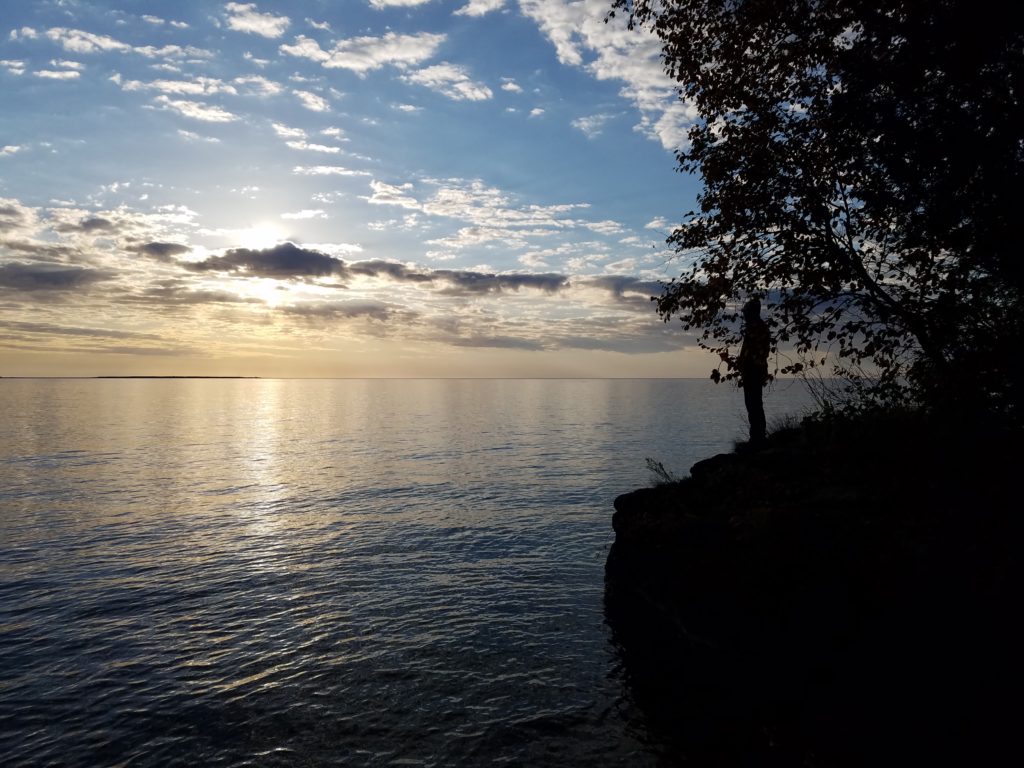 We had to get Rob back to Sturgeon Bay, and I had a long drive back to the Chicago burbs, so we ate our breakfast quickly and packed up the campsite. We took a fairly direct route back to the parking area, but stopped several times to enjoy the scenery. The warm autumn meant that the leaves were just beginning to change, but there were several areas within the park where the fall foliage was especially breathtaking.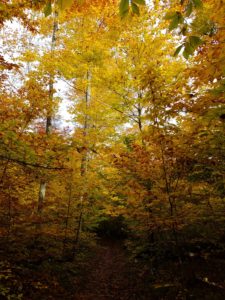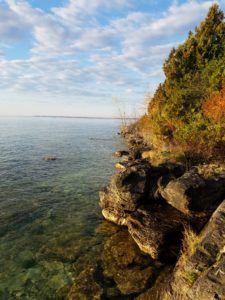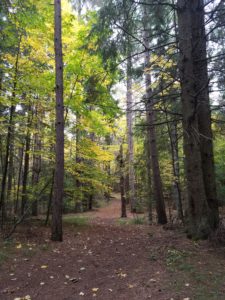 On our way back to Sturgeon Bay we stopped at Bearded Heart Coffee  on 57 in Baileys Harbor where I had an excellent cup of coffee, and tried goat milk as a creamer for the first time. Delicious! We drank our coffee on the pier at the Baileys Harbor Town Marina, where I hopped from rock to rock to stretch my legs for the long ride home.
Tip: Reserve your campsite well in advance!! Door County State Parks fill up quickly, even months in advance.
What to Expect: Long, flat trails, other people, nice views.
Wildlife Spotted: Birds, squirrels.
Cell Reception: Definitely NOT a Zero Bars Destination, however service can be spotty on the trails.
Cost: As of autumn 2016, a one-night camping reservation costs $25.00, with a $9.65 online reservation fee. Parking stickers cost $11.00 per day for out-of-state vehicles ($8 for Wisconsin plates), which can be used at all Wisconsin State Parks. This visit cost me $42.65 in fees.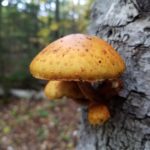 It's possible that I'll receive a commission for items that you buy through the Amazon links above, but at no additional cost to you. I only recommend items that I personally use and enjoy, and the commissions will help me offset the cost of hosting this blog. Thanks, and happy trails!