Let me begin by making clear that whiskey and wilderness go together like bacon and dates, bacon and scallops, bacon and… anything! So the purpose of my website has nothing to do with teetotaling or keeping folks out of taverns and taphouses.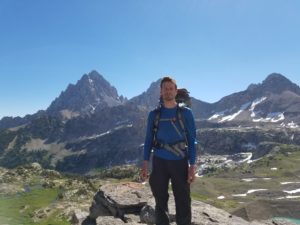 The purpose of this site is to motivate you and to give you the resources that you'll need to venture out into the wide green world – to help you enjoy a few weekends a year without the incessant ringing, beeping, pinging, poking, left-swiping, and liking that haunts your pocket all day long. I want to help you find places where remoteness will relegate your smartphone to a mediocre camera at best. You'll need the right gear to get there, and tasty food to eat while you're out there, so I'll have some suggestions for that as well!
My name is Matt, and my favorite outdoor activity is backcountry backpacking. I've spent hundreds of hours backpacking in backcountry settings and introducing people to the wilderness through backpacking. I've also spent thousands of hours planning trips and researching gear and safety.
My experiences through the years have led me to the following conclusion: information about Midwestern backpacking is sparse, decentralized, and sorely lacking for people who aren't already in the know. Hopefully I can change that by gathering all of my work in research and planning and sharing it with you here.
Writing this blog is a labor of love, but hosting it costs money. I may occasionally link to products (but only those that I've personally used and love), and if you decide to buy those products through my links or the widget below I may earn a small commission. I hope that the occasional commission will help defer the cost of running this site, and allow me to continue to provide you with great destinations, advice, and content.
Feel free to reach out if you have any questions, comments, suggestions for future posts, or trip invites. I'm also happy to provide advice on gear, physical conditioning, food/nutrition, etc. related to backpacking.
See you on the trail!

DestinationZeroBars.com is a participant in the Amazon Services LLC Associates Program, an affiliate advertising program designed to provide a means for sites to earn advertising fees by advertising and linking to amazon.com.